Benchtest.Com - Water Cooler 7 - page 3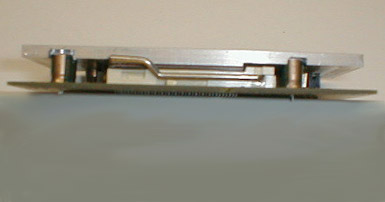 The cold plate now fits and has enough clearance for the capacitors. This plate took quite a bit more machining than I have had to do in past coolers.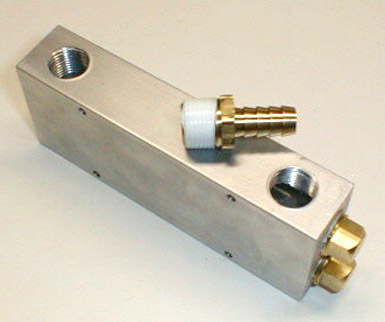 The nipples and end plugs get added to the water block with the help of some teflon tape. Make sure that the tape is wrapped with the tailing end away from the direction you screw it in. If the threads were cut with care, you should have a leak-free seal.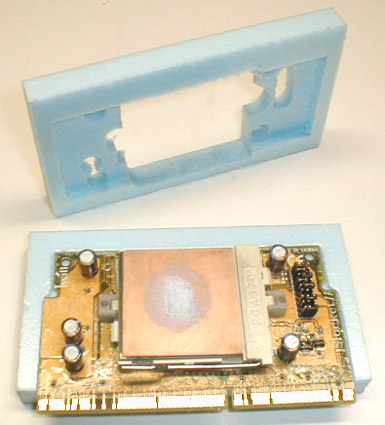 Time for some insulation. Using the same method that worked so well in WC4, I machined up a "clam shell" of foam to surround the adapter card and socket. After the relatively slow process of machining copper or aluminum, it is a real pleasure to machine the foam free hand. Messy, but fun.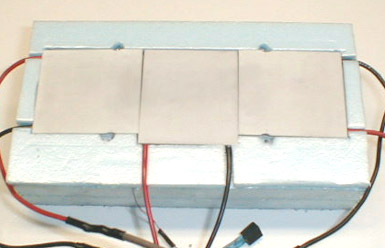 Another piece of foam was machined to surround the 3 Melcor PT6-12-40 (40 mm) TECs. The peltiers are rated at a maximum of 6 Amps, 52 Watts at 14.4 volts. The TECs were wired with the two outer ones wired together in parallel circuit and the third (center) one on a separate circuit. The power needed for these would prove to be the first of many challenges I faced in getting this cooler up and running.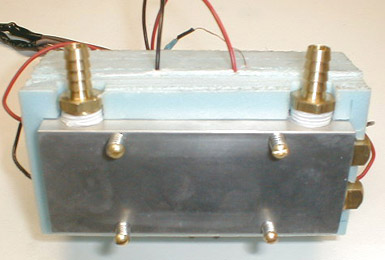 Looking somewhat like the power strip behind my desk with its array of wires, the first of the many builds of this cooler was now ready for testing.
If you're not familiar with the rest of the system, the remainder of the components - pump, fans, radiator, and holding tank - they are outlined here.